Load It Up and Get To Work
Never crawl into your truck bed or van again
Multi-position cargo stops
Industrial-grade American steel and aluminum
Tray uses resin coated marine-grade plywood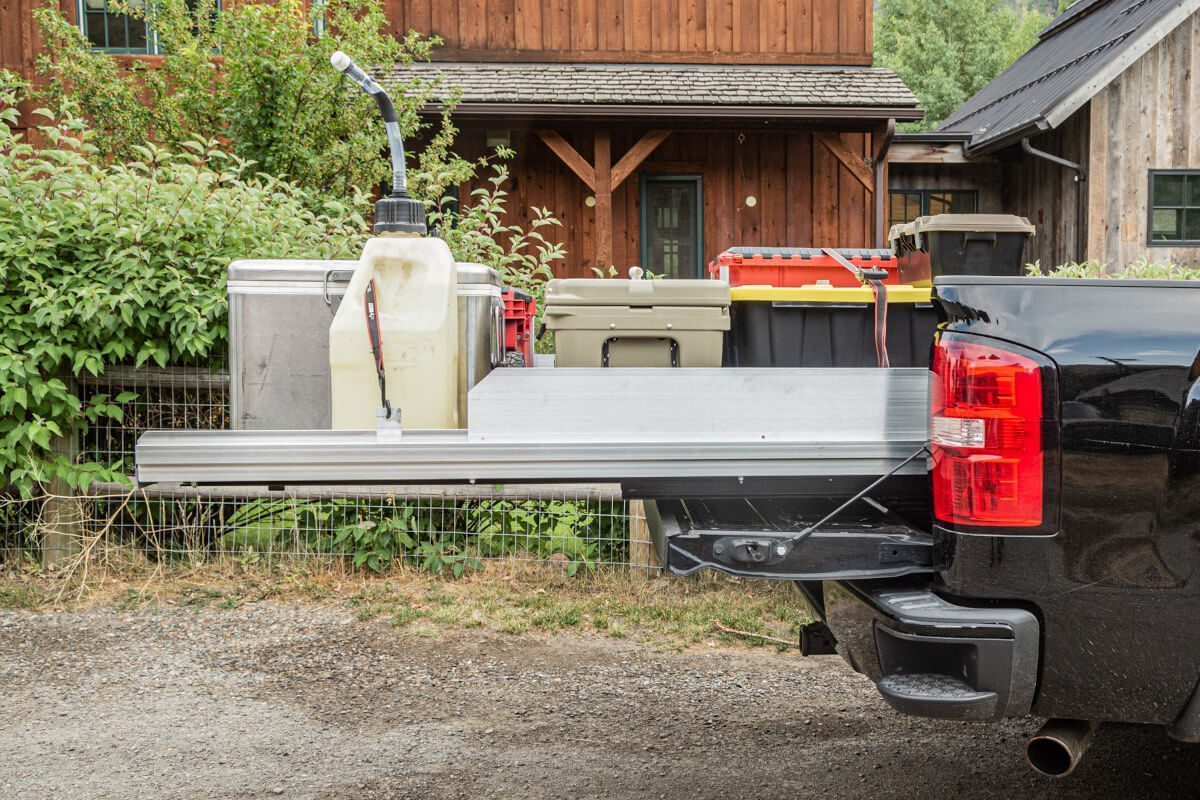 Roll it out and get rollin'
Ballsy ball bearings for buttery-smooth action
Easily operated with one hand (& a donut)
Goes on top of Drawers for the ultimate setup
Installation so quick and simple, monkeys can do it
You Want Options? We Got Options.
454 kg, 682 kg, 1000 kg payload options
Choose 70% or 100% extension
High Sides and additional tie downs available
Beer and pretzels, Drawers and CargoGlide
work SMARTER, NOT HARDER
HEAVY LOADS? SLOPES? NO PROBLEM
⭐⭐⭐⭐⭐
"The functionality of the CargoGlide is pretty bada$$. Comes with 4 tie-down points that you can slide up and down the tray edge. Extremely well built and glides very smoothly when pulling out. This sucker right here is what every truck needs."
– Paul W. (Underwater Welder)
⭐⭐⭐⭐⭐
"I don't have to climb in the bed of the truck. I let the CargoGlide come to me. I don't need to overextend myself in the bed of the truck. Make sure you purchase the eye bolts with it to help attach tie downs."
– Kenneth L. (Technician)
⭐⭐⭐⭐⭐
"I have the Drawer System and CargoGlide. I no longer have to get my aged and broken body into the bowels of my covered truck bed. Best addition I have ever made to any vehicle I have owned."
– Robin P. (Firearms Instructor)
⭐⭐⭐⭐⭐
"The CargoGlide has made my day to day transfer of tools and materials from unit to unit much easier. At 59 years old this month I'm grateful for not having to climb in and out of the bed of my truck anymore. Thank you Dr. Decked!!!"
– David S. (Commercial Remodeling)
At a Glance
1000 kg
---
Payload
Available in payload ratings of 454 kg, 682 kg, and 1 000 kg.
100 %
---
Extension
Comes in either 70 % or 100 % extension options.
99 %
---
Trucks and Vans on the Road
Fits nearly anything with a bed. Select models compatible with DECKED Drawer Systems.
Nerd out on tech specs
If you're the type that needs to know everything, here you go:
CargoGlide Materials:
Powder coated USA steel frame
Industrial 19 mm Marine Plywood deck, Coated with a thermoplastic top sheet
Aluminum sidewalls
14 double roller bearings mid frame 3203zz
12 side thrust bearings mid frame 6201
2 Cam follower bearings bottom frame (tailgate end) 32 mm CYR
TAILGATE CLEARANCE: Some tailgates don't lay flat when open, which will cause binding when extending the CargoGlide tray. The highest point on your tailgate when open must be less than 19 mm above your truck bed floor to ensure compatibility. Before drilling into your bed, test the fit according to our install instructions. We offer easy-to-install spacer/riser kits or shoulder bolts for the current GMC/Chevy trucks known to have this issue.
CARGOGLIDE INSTALLATION: <30 minutes (comes preassembled)
Compatible with:
Not compatible with:
Stepside / Flareside
Service Body
Bedrug / Drop-in Plastic Bed Liner
5th Wheel/Gooseneck
Carbon Pro Bed
Rambox
Composite Beds




Slide it out and get rollin'
---
Compatible drawers
The DECKED CargoGlide is compatible with select midsize and fullsize pickup DECKED drawer systems. Get all the details about compatible drawers here.
Technical specifications
DECKED CargoGlide is built stronger and better than most others.Want to know all the details? We've got the technical specifications right here.
Frequently asked questions
Will it fit my pickup? What's included with DECKED CargoGlide? Will it fit my DECKED Drawer system? Read about this and more in our FAQ.
cargoGlide, an in-depth Look